313F322-386 Straight Boot Heatshrink Shapes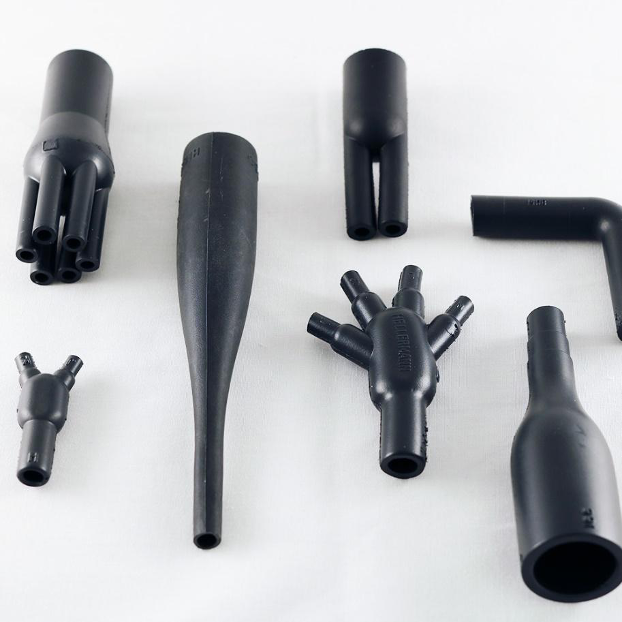 HEAT SHRINK BOOTS/MOLDED SHAPES
Heat shrinkable boots are used in many harnessing applications for the military & commercial aerospace, industrial, and automotive markets.  By combining molded shapes and heat shrinkable tubing, fabricators can jacket and environmentally seal cable harnesses.  Boots can also be used for strain relief, cosmetic coverings, cable split offs, environmental sealing, encapsulating as well as mechanical support.
VALUE ADDED SERVICES FOR HEAT SHRINK BOOTS
Regardless of the application, SEA offers value added services such as adhesive lining, potting ports, drain holes, custom labeling, and bar-coding.
MATERIALS AND WIRE BOOT VARIETIES
Working with boot materials such as polyolefin, fluid-resistant elastomers, fluorocarbon blends, low-smoke fire hazard elastomers, and viton-polyester blends, SEA offers a variety of wire boot types, including:
High and low profiled, straight bottle shaped transitions
High and low profiled, right-angled style transitions
T-shaped and angled t-shaped transitions
Y-shaped transitions
2-, 3- , and 4-legged fan-tailed transitions
2-, 3- ,4- , 5-, and 6-legged in-line transitions
End Caps
Custom shapes, modifications, sizes, and colors
To learn more about our Heat Shrink Boots, as well as our other products and services, please contact the SEA Sales Team
313F322-386 STRAIGHT BOOT HEATSHRINK SHAPES
Straight Boot, Low Profile with Adapter Lip
This boot provides strain relief in applications with partially loaded connectors, resulting in small cable diameters requiring a high shrink ratio.
All dimensions are in inches. All angles are in degrees.
Dimensions in table: X = Expanded (minimum), R = Recovered (maximum)
Larger expansions available on request for -6 material.