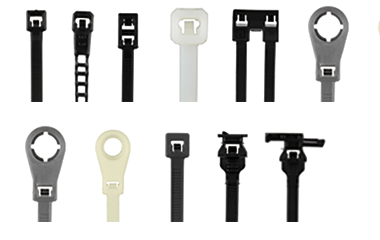 Cable Ties & Accessories
A Variety of Sizes for Every Condition
SEA carries a full line of cable ties and accessories to meet the most of demanding applications. Products range from nylon to tefzel and can come as long as 60 inches. Most cable ties are mil spec qualified and can handle the following conditions:
high heat
harsh weather conditions
high frequency vibrations
Accessories and Cable Ties for Every Industry
Cable ties are perfect for a variety of industries including:
CATV
HVAC transportation
electrical
electronics
telecommunications
transportation
retail
beverage
automotive
and more
Each industry may have a different use, but they're perfect for packaging, security, mounting, transportation, and more.
Nylon Resin and Temperature Tolerance
Natural colored nylon resin:
Temperature range: -40° F (-40°C) to 185° F (85° C)
indoor use
Weather Resistant (WR) resin:
Temperature range: -40° F (-40° C) to 176° F (80° C)
outdoor use with ultraviolet light resistance
Contain 2% carbon black
Heat stabilized (HS) resin:
Temperature range: -40° F (-40° C) to 221° F (105° C).
withstands higher heat
Impact Modified, Heat Stabilized (IMHS) resin:
Temperature range: -40° F (-40° C) to 239° F (115° C)
automotive cable ties
wide temperature fluctuations
Pick Your Color
Do you need a certain color for your accessories and cable ties? For the 4" and 8" cables, we offer a variety of colors and accept special requests for other colors.
The Bag
Our bags are packaged at a specific moisture level to prevent changes in the cable ties. They should not be opened until you're ready for use. Bags should also be resealed between uses to prevent any changes. After they're applied, the moisture should not affect or hinder the performance.
Quantity
Bags and cables packages come in two different options. "Standard" and "Bulk."
Standard: 100 piece packs
Bulk: 1,000 piece packs
Information included:
Maximum bundle diameter
Military specification number if applicable
Strap ID code: miniature, intermediate, standard, heavy-duty or extra heavy-duty
How does a cable tie work?
The cable tie should form a loop when a user inserts the fastener tail into the head. The teeth of the cable tie should be inside the head. This helps the strap enter the channel and keeps the teeth sliding against the pawl. Then, tighten the cable tie by hand or with an assistance tool. The portion that's not used in the loop can be cut and thrown away.
Cable Tie Performance Criteria
the material
the bundle diameter
minimum loop tensile strength – the amount of force it takes for the tie to fail, expressed in pounds, kilograms and/or Newtons.